Natalie Driessen, M.D., M.B.A.
Plastic Surgery
44311 Monterey Ave, Palm Desert, CA 92260, EE. UU.

(760) 773-6618
Education:
Loma Linda University, Plastic Surgery Residency, 07/2007-2013, Loma Linda, CA
Northeastern Ohio Universities College of Medicine, Doctor of Medicine, 07/2005-06/2007, Rootstown, OH
Pepperdine University, MBA degree, 08/2000-06/2002
University of California Riverside, Bachelor of Science in Biochemistry, 08/1993-06/1996
Board Certification:
American Board of Plastic Surgery
Certifications:
ATLS/BLS certified
Areas of Practice:
Women's Health issues, Breast Cancer and reconstruction
Cosmetic/Aesthetic Breast Augmentation
Tummy Tuck Surgery
Mohs reconstruction
Hair transplant
Professional Membership and Associations:
American Medical Association
American Society of Plastic Surgery
American Society of Aesthetic Plastic Surgery (ASAPS)
Hospital Affiliations:
Eisenhower Medical Center, Rancho Mirage, CA
Riverside Community Hospital, Riverside, CA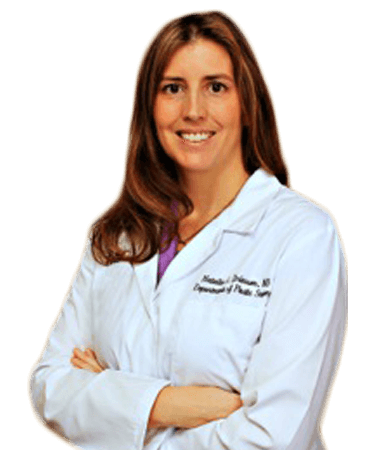 Natalie Driessen, M.D., M.B.A.
Plastic Surgery
44311 Monterey Ave, Palm Desert, CA 92260, EE. UU.

(760) 773-6618
Education:
Loma Linda University, Plastic Surgery Residency, 07/2007-2013, Loma Linda, CA
Northeastern Ohio Universities College of Medicine, Doctor of Medicine, 07/2005-06/2007, Rootstown, OH
Pepperdine University, MBA degree, 08/2000-06/2002
University of California Riverside, Bachelor of Science in Biochemistry, 08/1993-06/1996
Board Certification:
American Board of Plastic Surgery
Certifications:
ATLS/BLS certified
Areas of Practice:
Women's Health issues, Breast Cancer and reconstruction
Cosmetic/Aesthetic Breast Augmentation
Tummy Tuck Surgery
Mohs reconstruction
Hair transplant
Professional Membership and Associations:
American Medical Association
American Society of Plastic Surgery
American Society of Aesthetic Plastic Surgery (ASAPS)
Hospital Affiliations:
Eisenhower Medical Center, Rancho Mirage, CA
Riverside Community Hospital, Riverside, CA
Copyright © 2019. Desert Doctors. All Rights Reserved.
Designed by Isning Gamez - http://isning.com