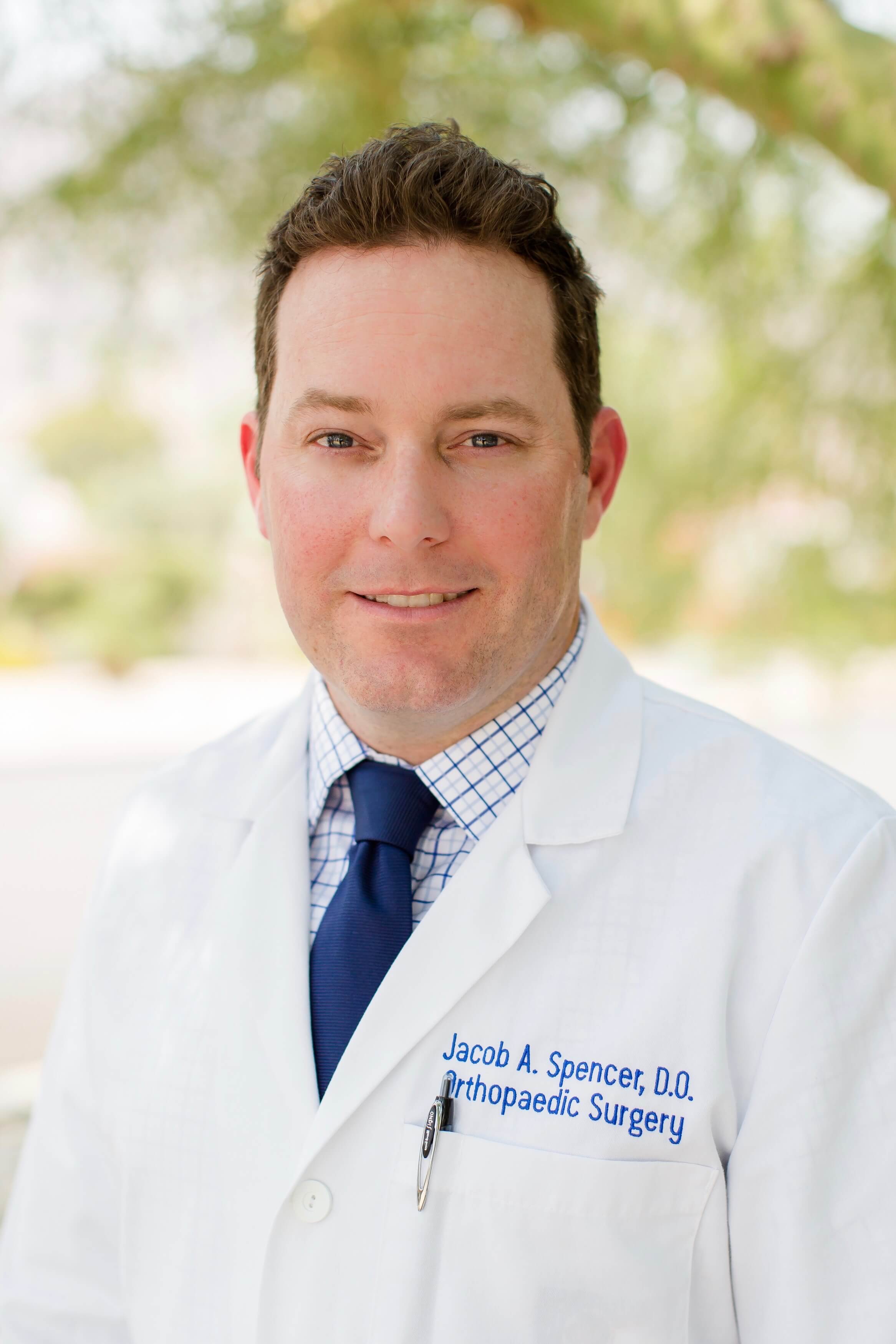 Jacob A. Spencer, D.O.
Orthopedic Surgery, Sports Medicine
39830 Portola Ave, Palm Desert, CA 92260, USA

(760) 972-4586
Education:
Fellowship: Orthopaedic Surgery Sports Medicine - Jefferson Health 3B Orthopaedic Institute- Philadelphia, PA
Residency: Orthopaedic Surgery- RWJ Barnabas Health Jersey City Medical Center - Jersey City, NJ
Medical School: Doctorate of Osteopathic Medicine (D.O.) at Arizona College of Osteopathic Medicine - Midwestern Univeristy - Glendale, AZ
Graduate School: Masters of Science (M.S.) in Physiology at Georgetown University - Washington, DC
Undergraduate School: Bachelors of Science (B.S.) in Cell and Molecular Biology at San Diego State University - San Diego, CA
Areas of Practice:
Orthopaedic Surgery Sports Medicine
Professional Membership and Associations:
American Academy of Orthopaedic Surgeons
American Osteopathic Academy of Orthopaedics
American Orthopaedic Society for Sports Medicine
Arthroscopy Association of North America
About Dr. Spencer:
As a Southern California native, Dr. Spencer grew up enjoying the active outdoor lifestyle that many of us enjoy. His passion for Orthopaedics and Sports Medicine was born from his experiences while surfing at the local beaches, playing ice hockey around San Diego, and snowboarding, hiking, and fishing in the Sierra Nevada Mountains. While it was his injuries that introduced him to Orthopaedics, his passion and dedication for helping and treating others is what helped him excel in the field.
Dr. Spencer's commitment to excellence in Orthopedics began at San Diego State University, where he earned his Bachelors of Science degree in Cell and Molecular Biology while also conducting Sports Medicine research in the biomechanics of baseball and golf swings. He then attended the prestigious Georgetown University where he joined the accelerated Masters of Science program in Physiology and Biophysics.
After graduating from Georgetown, Dr. Spencer went on to receive his Doctorate of Osteopathic Medicine from Midwestern University's Arizona College of Osteopathic Medicine. While at Midwestern, he continued pursuing his passion for Orthopedics and Sports Medicine research by evaluating advanced techniques in rotator cuff repair, as well as testing cutting-edge joint replacement technologies.
Following medical school, Dr. Spencer completed his Orthopaedic Surgery Residency training at the Robert Wood Johnson / Barnabas Health Jersey City Medical Center in Jersey City, NJ. Throughout his residency training, Dr. Spencer refined his surgical skills through thousands of surgical procedures, published articles and book chapters in the areas of Sports Medicine and Orthopaedic Trauma, as well as gave numerous lectures and presentations locally and regionally. Dr. Spencer's commitment to excellence in Orthopaedics, his compassion for the community, and his dedication for the advancement of Orthopaedic education earned him the role of Chief Resident.
After residency, he completed a Sports Medicine Fellowship at the renowned 3B Orthopaedic Institute in Philadelphia, PA, while continuing to publish research with experts in the field. Throughout fellowship, Dr. Spencer mastered numerous advanced surgical techniques while caring for elite level athletes ranging from high school to the professional level. He also served as a Team Physician for West Chester University, where he worked along side fellow Physicians, Athletic Trainers and students while taking care of college athletes in football, baseball, basketball, soccer, lacrosse, track and field, gymnastics, tennis, and rugby.
Dr. Spencer believes in a patient-first approach, where your time and your concerns are as important as your outcome and return to pain-free activity. Taking time to ensure you understand your diagnosis and how your body is affected by it is a top priority. He combines your goals and expectations to create a personalized treatment plan, tailored to each patient. Dr. Spencer is committed to utilizing the latest in non-surgical techniques to alleviate pain and prolong the life of your joints with Hyaluronic Acid, PRP, and Stem Cell injection therapies. When necessary, he applies his expertise in Arthroscopic and Joint Replacement surgery to repair, reconstruct, and or replace torn tendons, damaged ligaments, and worn cartilage. Dr. Spencer takes pride in providing you excellent care and getting you back in the game.
Other Locations:
STAR Ortho, La Quinta, CA

79200 Corporate Centre Dr STE 104, La Quinta, CA 92253, USA